A New Treatment Platform designed To Restore the Immunologic Setpoint
NO PILLS TO SKIP OR INJECTIONS TO MISS
SetPoint Medical created a therapy designed to offer patients and providers an alternative for the treatment of chronic autoimmune diseases with potentially less risk and lower cost than drug therapy.
A TINY IMPLANT WITH POWERFUL PERFORMANCE
SetPoint Medical's small, self-contained nerve stimulator generates precise electrical pulses using an integrated circuit, telemetry hardware and a rechargeable battery enclosed in a ceramic and titanium case. Physicians determine precise, automatic dosing through an iPad application. Patients recharge the device at their convenience using a wireless charger.
ADVANCING THE POSSIBILITIES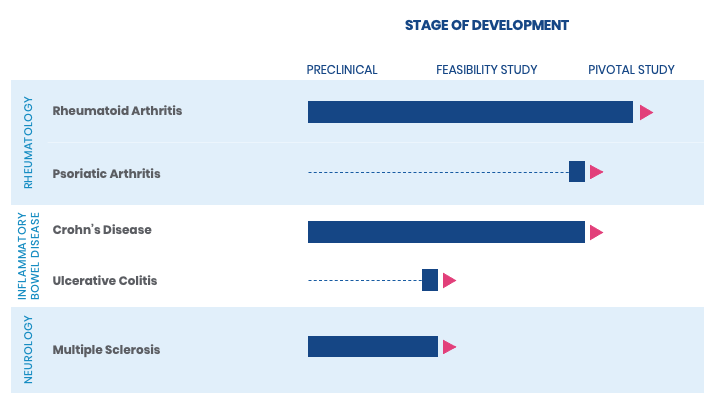 Rheumatology 
With Rheumatoid Arthritis (RA), the body's immune system attacks its own tissue, including joints, often resulting in pain, diminished function, bone erosion and joint deformity.
More than 1.5M Americans suffer from RA. Current immunosuppressive therapies and biologics used to manage RA cost almost $30B annually. SetPoint Medical believes there is a better way through lower-cost therapies that don't lose efficacy over time.
RESET-RA Study
SetPoint Medical is currently conducting a 250-patient randomized, double-blind study to evaluate its proprietary device to treat rheumatoid arthritis in adult patients who have had an inadequate response or intolerance to at least one of the RA medications. This Investigational Device Exemption (IDE) study, conducted in accordance with U.S. Food & Drug Administration (FDA) regulations, is actively enrolling patients at various sites across the United States.
U.S. PILOT STUDY
SetPoint Medical conducted a pilot study utilizing its proprietary device to treat rheumatoid arthritis in the US. The results from this Pilot Investigational Device Exemption (IDE) study in patients with drug refractory rheumatoid arthritis were published in The Lancet Rheumatology.
EUROPEAN PROOF-OF-CONCEPT STUDY
SetPoint Medical announced positive results from the first-ever, proof-of-concept human study using an implanted vagus nerve stimulator to treat rheumatoid arthritis at the American College of Rheumatology Annual Meeting in 2012. For a comprehensive analysis of the results of this European study, see the write up in Proceedings of the National Academy of Sciences.
PROOF OF CONCEPT STUDY
SetPoint Medical has conducted a proof-of-concept study using bioelectronic medicine to treat Crohn's disease in 16 patients in Europe. The company presented positive results from this study at Digestive Disease Week in 2018 showing that there were significant reductions in disease activity as assessed by the Crohn's Disease Activity Index (CDAI).
EARLY PRECLINICAL RESULTS IN MS
Preclinical results highlight that a neuroimmune modulation can not only reduced demyelination, but may also accelerate remyelination, often considered the holy grail in MS treatment.
THE PATIENT EXPERIENCE
This novel therapeutic approach is designed to treat chronic autoimmune diseases and has already undergone initial proof-of-concept clinical studies.
The SetPoint Medical devices and systems and/or the use of this product in a method may be covered by one or more U.S. and/or foreign patents owned or licensed by SetPoint Medical Corporation. Other patent applications are pending. This page is intended to serve as notice under 35 U.S.C. § 287(a).
CAUTION – Investigational device. Limited by United States law to investigational use.